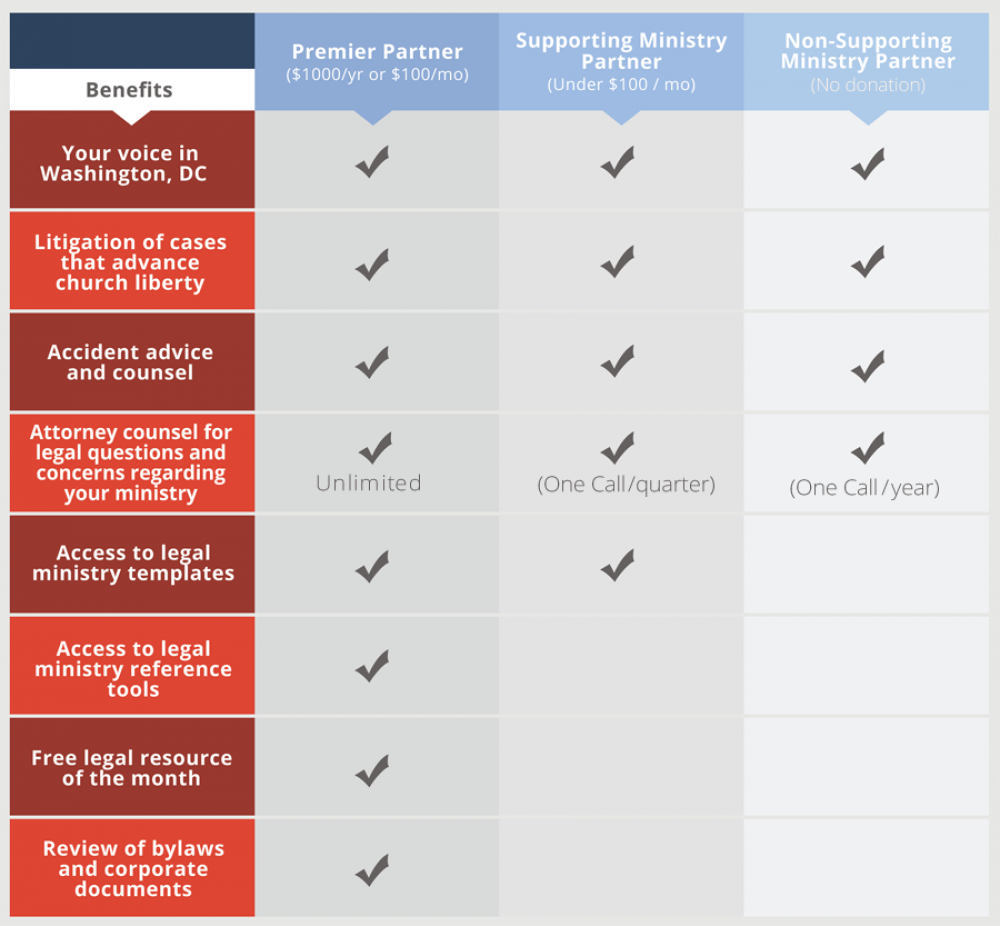 What does it mean to be a premier partner? It means special benefits that will help you continue to provide maximum ministry with minimum liability.
You have a voice in Washington, DC. We maintain relationships with government leaders, including members of Congress, as well as those in our nation's capital leading organizations involved with issues important to Christians, from financial accountability to health care sharing. Our presence there, whether our own staff or friends of our ministry, helps keep vital issues in front of those who will have a lasting impact.
We litigate important cases that advance personal religious liberty and church liberty AT NO COST TO THE DEFENDANT. These are issues that are greater than any single person or congregation and will ultimately impact all of us as Americans.
Our attorneys routinely give advice and counsel to partners on a variety of matters. Often it's after a specific incident, such as how to handle potential liability when an accident takes place on church property. At other times, calls for advice are proactive, with questions about such things as whether bylaws should be updated or how effective current insurance coverage may be.
Partners have access to dozens of legal ministry templates. We have forms in place for everything from bylaws to permission slips—something as simple as allowing an outside party to use your building for an event. These are common occurrences that still have the potential for liability if not handled properly. Using our forms can save your ministry hundreds of dollars compared to having a local attorney prepare your documents for you.
Our attorneys will review a partner ministry's official documents at no cost. We can look at your articles of incorporation, 501(c)3 filings, and anything else that might need a legal review from time to time.
Our partners have access to scores of legal ministry reference tools. We have printed booklets on topics such as church safety/security, emergency response, tax exemption, child safety, protecting ministry assets, financial integrity, critical ministry documents, a church's position on marriage and sexuality, and plagiarism/copyright issues. Each booklet has an accompanying DVD, and the set is provided at no extra cost to each of our partners.
We also send out by email a free legal resource of the month, providing practical helps on timely issues such as how to prepare your church for Christmas or protect your Christian school via your handbook.
With all these benefits at your fingertips, why wouldn't you want to be a premier partner?