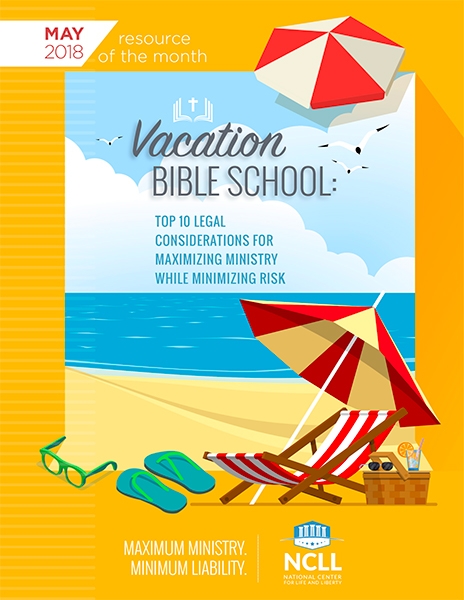 Vacation Bible School: Top 10 Legal Considerations for Maximizing Ministry while Minimizing Risk
Posted Apr. 1, 2018
Most churches reach more young people (and their parents) during vacation Bible school (VBS) than any community event of the year. People with no other connection to your church will be on your property, interacting with your VBS staff and other parents and children. Countless hours of planning and prayer are typically spent in preparation for VBS activities, but steps to minimize legal liability are often given too little focus. In our lawsuit-prone culture, the NCLL has prepared the ten most important recommendations in a brief, but substantive VBS legal guide available at no cost to you. Download your complimentary guide—Vacation Bible School: Top 10 Legal Considerations for Maximizing Ministry while Minimizing Risk. While no defense removes every risk, addressing these 10 considerations can dramatically decrease the risks of physical harm and ministry liability. Implementing these best-practices also reflect well on your ministry and the cause of Christ—all while helping you operate a successful program with minimal operational distractions.
---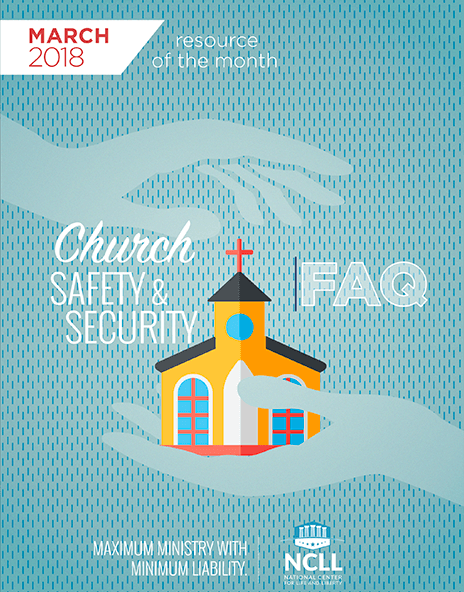 Church Safety & Security FAQs
Posted Mar. 1, 2018
Strengthen your church's safety today! Protect your congregation with your complimentary (and newly published) step-by-step guide to securing your church—in ALL circumstances. In light of horrific recent attacks in public venues, the National Center for Life and Liberty developed this simple, powerful blueprint to help you resolve all the hard questions, including: What if it had been us? Would we have been prepared? How DO we prepare for an attack (and other potentially life-threatening emergencies)? Access your copy of this critical planning document that incorporates the best, most current safety and security protocols—"CHURCH SAFETY AND SECURITY FAQs"—before a crisis happens. The media and politicians keep talking about who to blame. This month's resource will help you develop (or update) a solid, practical plan to protect YOUR church now. Please act today on behalf of the families entrusting you with their safety. Download your complimentary roadmap to prepare for every kind of emergency.
---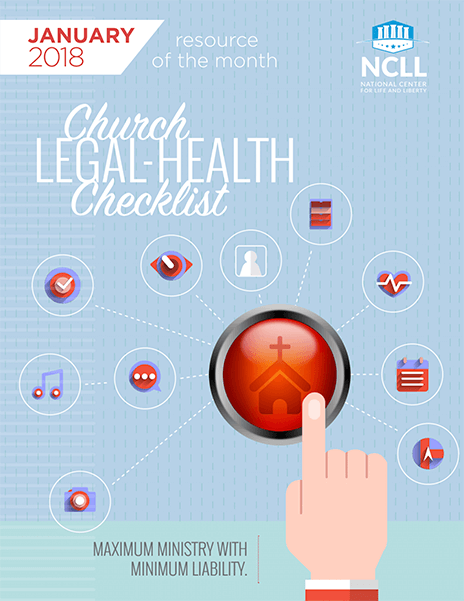 Church Legal-Health Checklist
Posted Jan. 1, 2018
Start your new year with confidence and wisdom! Every church experiences a unique level of risk related to safety, security, and liability. Identifying potential areas of concern BEFORE they become problems helps protect staff and leadership, congregants, and assets-especially as activists increasingly target churches. You can instantly download this practical (and FREE) checklist prepared by the National Center for Life and Liberty (NCLL) as our New Year's gift to you. This resource of the month addresses eight critical areas of potential vulnerability for your church Your new checklist covers specific issues your church may need to address within each key area of concern, such as developing a clearly stated employee "code of conduct" within the "Adopting Biblical Marriage and Sexuality Provisions and Policies" section. The NCLL is here to assist you and other like-minded churches to focus on maximum ministry with minimum liability. Download your legal-health checklist today!
---
Archive: